NC Winery #23: Raffaldini, Revisited
A North Carolina wine blog would not be complete without a review of Raffaldini Vineyards and Winery. Located in the Swan Creek AVA of the Yadkin Valley, it's one of the top wineries in the state. We've been to Raffaldini several times and even featured a guest blog post as our original review. However, Jesse and I recently had the chance to revisit Raffaldini on a nice, overcast winter afternoon.
Raffaldini makes Italian wines. The owner, Jay Raffaldini, is Italian. When searching high and low for the perfect location for a winery, he settled upon Ronda, North Carolina due to its similar climate and characteristics to Italy. Their tagline is "Chianti of the Carolinas" and they deliver on that promise! They produce some amazing dry whites and reds using Italian grapes grown in their vineyard. And for those that prefer sweet wines, their La Dolce Vita, a sparkling Moscato d'Asti style wine, is sure to please just about any palate.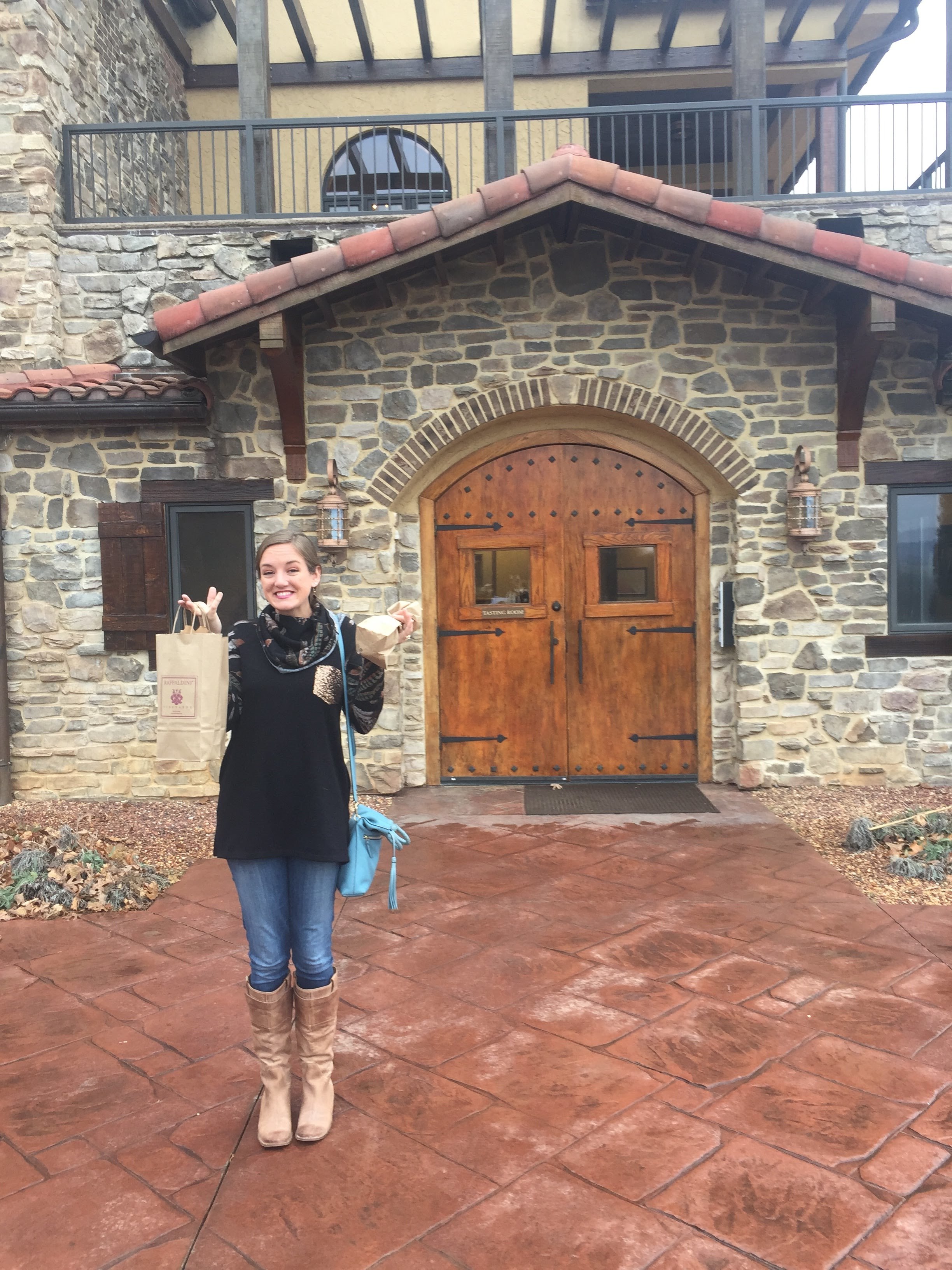 The tasting room is perched on a hill overlooking the vineyard with a great view of the North Carolina foothills. As we pulled in the drive, we were greeted by a flock of starlings who had taken up residence in the vineyard - a good omen, I hope! The tasting room is normally packed on Saturdays, but we arrived right at opening time and had the place to ourselves. They're one of the largest producers in the area, so it's not like one of those "mom and pop" wineries where the winemaker aka winery owner is going to be doing your wine tasting. But if you're looking for an experience - or want to show off just how great NC wine can be - Raffaldini is an excellent choice.
The tasting room is very well appointed with plenty of room as well as a small shopping area where you can pick out food and beverages for a picnic. Our wine spirit guide set us up with the tasting notes and a branded Reidel glass. For $12, you get to taste 8 wines and keep the glass.
We sampled the wines while our wine spirit guide provided the backstory and notes on each. This may be the wine talking, but it seemed like I loved each one more than the last. If you have the time, they have a great outdoor area for a picnic. We would have loved to stick around for a glass (or bottle...) but we had places to be. We purchased a bottle of Girasole for a future Wine Mouth event and headed next door to Piccione.
Veni, vidi, vici. Vino. (We came, we saw, we conquered. Wine....or something like that!)
Here are our ratings:
People: 4. Our wine spirit guide was very knowledgeable, gave a great pour, and was incredibly attentive.
Place: 5. They've GOT. IT. GOING. ON! If you can tune out the Southern accents, you'll feel like you're in Tuscany. The view is great, the tasting room decor is timeless, and they have lots of space to sit and enjoy some wine and food.
Wine: 5. As dry wine lovers, Raffaldini is a dream come true. We loved every wine we tasted and wished we were back in the good old days when we both had lucrative careers and could afford to buy a case of wine whenever we felt like it.