Rosé Party Recap
Before we get to the wine in this post, I need to introduce you a place called Jane. Jane is a made and found boutique in Kernersville, NC. Its wares are sourced by local artists and perfectly curated and displayed by Kresha and Michelle, the owners (and #bffgoals). These ladies are true visionaries and have worked hard to create a beautiful space to shop, learn, and find awesome home goods and jewelry.
A few months ago, the "Janes" contacted us about hosting a wine tasting party at Jane, and we jumped at the chance. Since it was summer, we decided to focus on rosé. Our goal was to make rosé approachable and fun for people who may not have tried it before. Jesse and I got to work. We did lots of "research" and ultimately settled on 6 rosés that ranged from dry to off-dry and sparkling. We planned a simple menu that would highlight the flavors of rosé, and got to work on our swag bags for the event.
The wines:
Augey Bordeaux: A crisp, tart French wine with hints of strawberry, watermelon, nectarine, cherry. Would pair nicely with an aged cheddar cheese.

Dark Horse: A floral, perfumy California rosé with flavors of citrus, grapefruit, and unripe strawberries. This one was a little "flabby."

La Vieille Ferme: Lovely light French rosé with hints of ripe strawberry.

Biltmore: Our North Carolina representative for the evening. This was semi-dry, fruity, and tropical, and tasted a bit like a Jolly Rancher - aka fake strawberry, fake watermelon, cherry candy.

Rosatello: Sweet, Italian wine with flavors of ripe fruit, cotton candy, raspberry, red currant, and plum. It was well-balanced and had some effervescence to it.

Ballatore: A California sparkling rosé. This one was 'yeasty,' like bread, with hints of red berries, raspberry, green apple, and nectarine. It had big, soft bubbles and was the perfect way to end the evening.
The menu:
Cheese: Gouda & Syrah-soaked Tuscano
Fruit skewers with strawberries, cantaloupe, and grapes
Prosciutto, mozzarella, and cantaloupe skewers
Hazelnut cookies
White Chocolate Party Popcorn
Once everyone arrived, we started by reviewing the 4 S's of wine tasting (see, sniff, swirl, sip). Next, we touched on the background of rosé, and then we finally got to work tasting each wine. It was so fun to hear everyone's take on the wines! Some were big hits, some were destined for the dump bucket, but overall each wine resonated with someone. The real winner of the night was our white chocolate covered party popcorn. After we finished the tasting, we all hung around and did a little shopping in the store. It was the perfect evening, and Jesse and I have been riding that rosé buzz ever since. Here are some more photos if you'd like to see!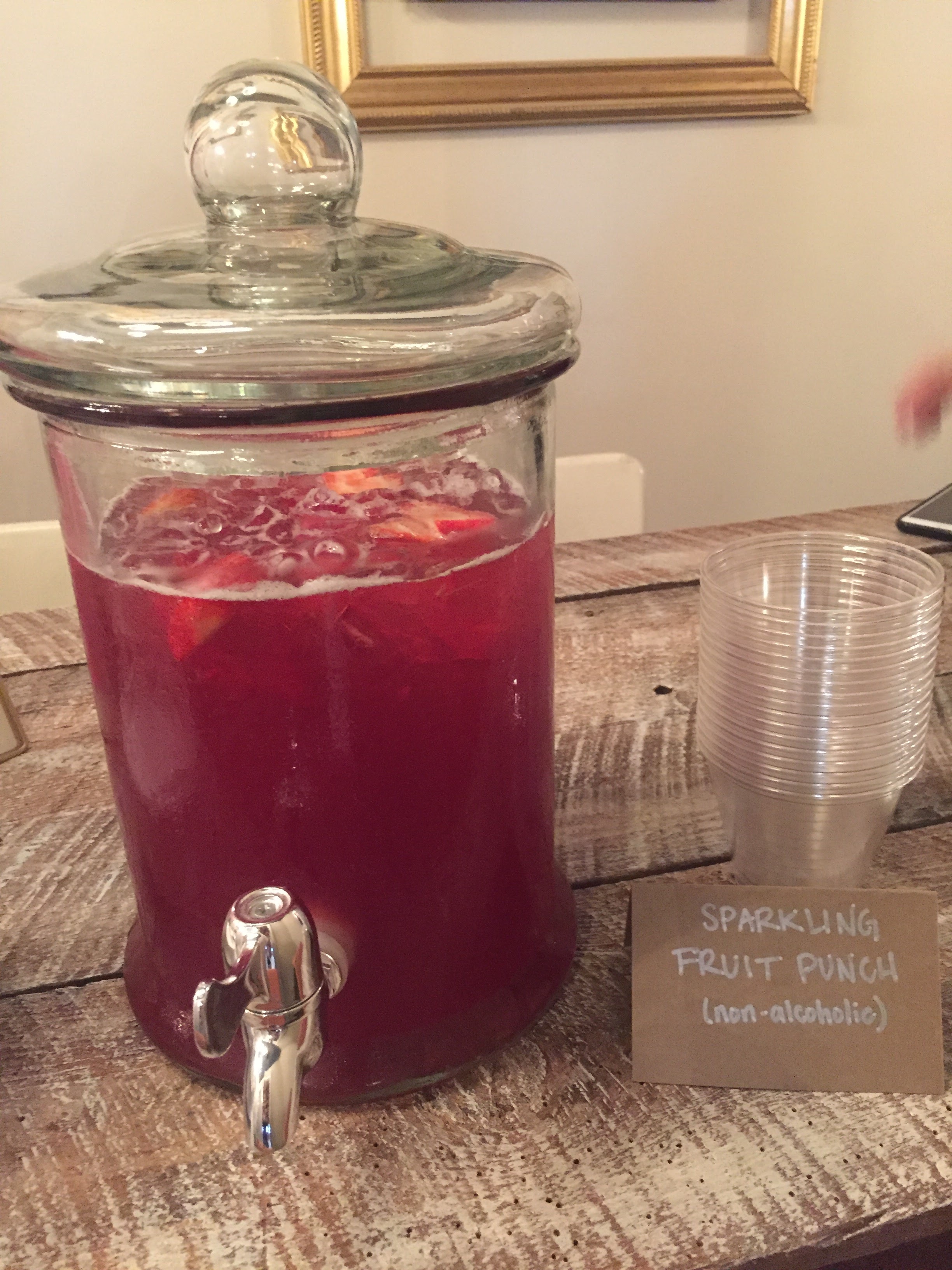 Special thanks to Jane for hosting us! Follow them on Instagram and Facebook!
P.S. Need help planning your next wine party? We're here to help! Contact us for more info on our party services.